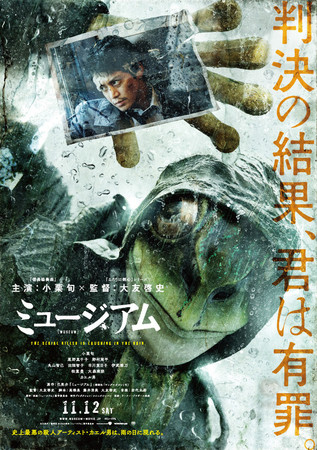 It's been awhile since I saw a good thriller movie, even further a thriller Japanese movie. So, I thought that the "
Museum: The Serial Killer Is Laughing in the Rain
"
(Myujiamu)
movie will be a good treat for my hunger of a thrilling movie. And it did not disappoint. Let me tell you the sensation that you get from the movie in this articles
Personally I think that this movie should be the perfect bait for people to bite into Japanese movie. This is caused by three reasons. The first is that it is a movie made by Keishi Ohtomo, you know the guy who bring you the marvelous trilogy of samurai X.

Second reason is that it is based on an existing manga with the same name
Museum: The Serial Killer Is Laughing in the Rain by Ryosuke
Tomoe in 2013 which make the story to have more solid and strong background. And the final reason, is that this movie star the Shun Oguri as the main prontagonist! the actor that play delinquent Takiya Genji from Crows Zero film is back here as a detective in the horror story. And I myself can't believe my eyes in how different he looks and acts.
If you expected an adventure like rurouni kenshin you should stay away from this movie. Because, the movie is pretty dark and aimed more towards the adults viewers. It revolves around the workaholic detectives who investigates mysterious

BLOODY GRUESOME

killing cases that can keep you shaking in your seat. The main villain is a psycho-killer that have its own view of its murder as arts. You can actually feel the influence of movies like SAW in this movie.
The ending seems weak compared to the drama that built it.

The struggle that
Detective Hisashi Sawamura (Shun Oguri) of the Tokyo police to complete his work only gets harder, after his wife wife Haruka (Machiko Ono)

cannot stand being left behind by him for his works. While at work, he always seems so cool unlike his rookie cop Nishino (Shuhei Nomura). But, all of that coolness seems to fade away after he found out that the maniac serial killer is also targeting his family for being a "judge" for the juror of his killing case.
The killing is pretty mysterious and bloody, and the appearance of the killer only adds the horror atmosphere. The killer is wearing a ridiculous weird frog mask which become his trademark, and his decision to only work while raining seems to add more mystic mystery to the case. He always left behind a card behind stating their victim's Penalty for their sins.
Because of his wife connection to the case he was off the case by the police, and he chose to be a vigilante to save his family. It is pretty interesting to see Shun Oguri to slowly lost his mind and cool during the case, and how the main villain broke his mind to make his "arts".
Museum's storytelling for me is very good, Otomo used savvy stylistic choices, drawing the audience in through a mysterious case that keep you thinking, urgently shot and frenetically edited sequences. Furthermore, all the shot of killing is pretty grim and gritty.
In the end, I am disappointed in the ending because the motive is lacking for me. The mysterious feeling you got at the start is disappearing traded for brutal fight and chase with no tactic or mind power. But, in the end the very ending scene left an ambiguous message that the legacy may be continued with no apparent reason.
But, this show fact that room is left for a follow-up sequel, though I hope if there is a sequel, they would make it to have more mystery beyond the standard serial killer movie template.
Production companies: Warner Bros Japan, Museum Film Partners

Cast: Shun Oguri, Machiko Ono, Shuhei Nomura, Yutaka Matsushige, Satoshi Tsumabuki
Director: Keishi Ohtomo
Screenwriters: Keishi Ohtomo, Izumi Takahashi, Kiyomi Fujii, based on the original manga by Ryosuke Tomoe
Producer: Atsuyuki

Shimoda


Director of photography: Hideo Yamamoto
Production designer: Toshihiro Isomi
Costume designer: Kazuhiro Sawataishi
Music: Taro Iwashiro
World sales: Gaga Corporation
Venue: Tokyo Film Festival (Special Screenings)
132 minutes
read more at